Advertising campaign for the Combi solution
Communication to support the international launch of the new coffee machine that combines soluble and Roast&Ground
---
speciality
Communication strategy
Customer journey mapping
Concept & content creation
Storytelling
Below the line
POS activation
deliverable
Shooting
Campagna adv
Brochure trade
Linkedin campaign
Long associated with superior goodness and flavour, coffee beans exert a powerful attraction on the consumer and trigger a propensity to buy that brands in the Food & Beverage sector cannot ignore. But when a brand with a long tradition and experience in soluble, such as Nescafé, launches a new Roast&Ground solution the communication strategy faces a more complex challenge: in addition to enhancing the innovation and quality of a new product-service system, it is also critical to act on the perception that consumers have of the brand. To promote the new Combi solution by Nescafé Milano, the integrated package of ingredients, machine and services that marks the entrance of coffee beans into Nescafé systems for HoReCa, we leveraged the historic presence of the brand in the coffee sector, capitalizing on the expertise factor through the concepts and messages.
Enhancing the product-service and transforming consumer perception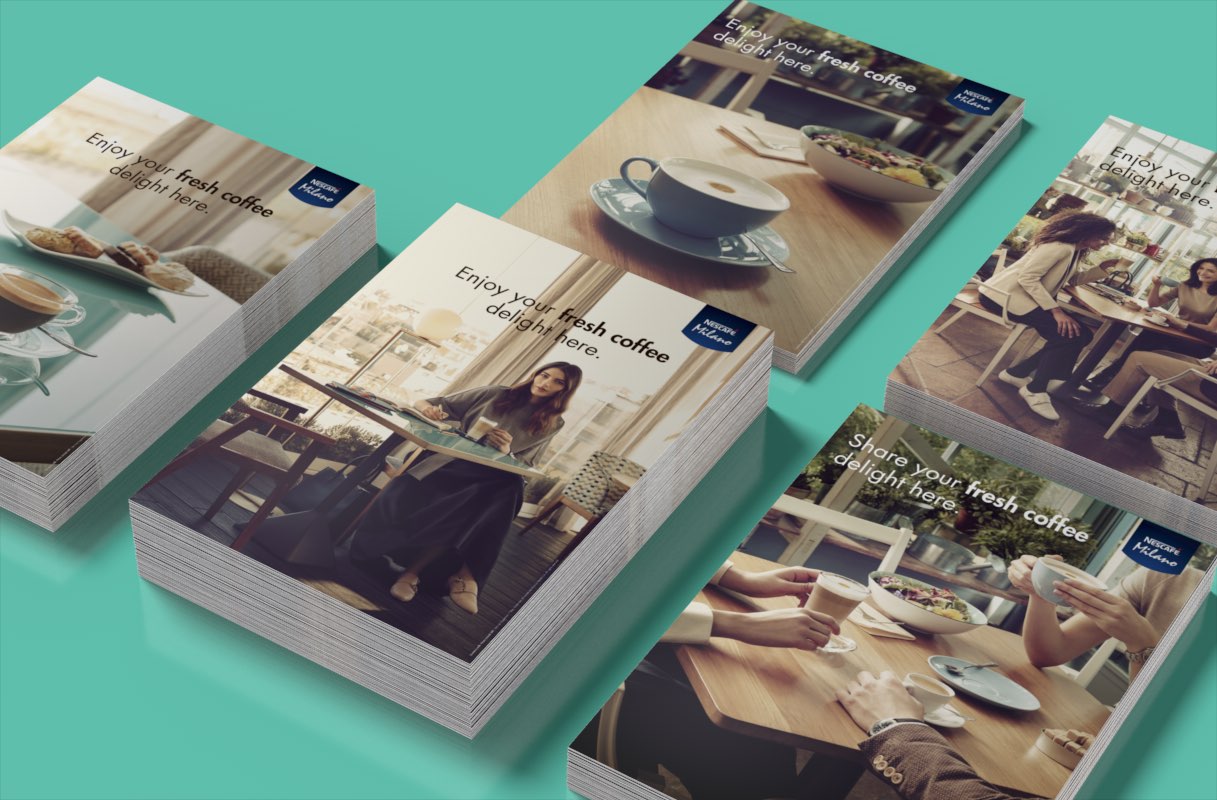 approach
Heritage, product quality, the excellence of the solution: the result of careful analysis of the brand and insights from market research and the world of consumption, the ATC campaign wanted to emphasise several differentiating values to leverage an international launch, thus opening up the possibility of customization based on the responses of individual markets or consumer groups.
solution
Working closely with the Beverage Centre in Orbe, the headquarters of Nestlé Professional, which coordinates the business globally, the agency oversaw the implementation of three different campaigns. This strategy allows local markets to choose the most suitable creative for specific business needs.

The first concept focuses in particular on the importance of history and heritage, symbolized by the wood and the rings that radiate out from the brand's core identity, projecting the idea of continuous growth and horizons with flexible redefinition.
The celebration of the essence of coffee provided the theme for a second execution: "Dip into the aroma", a real call to action to an experience of pure pleasure.
The third version of the campaign focuses on the use context of the machine, through an alternating focus, respectively on the barista - who becomes an "empowered customer" thanks to the new Combi – and on consumers and the machine.

The three perspectives that, both in multi-subject versions and enclosed in a single visual, help in each case to highlight the three fundamental advantages of the new solution: quality ingredients, cutting edge technology and service excellence. The ATC team managed the art direction of the photo shoot, selecting locations and casting models. We also created all the materials to support sales: a trade folder, a presentation video to be combined with the trade presentation, as well as point of sale materials and custom content for web and social campaigns.