Morando - Launch of MigliorGatto Sterilized - Relaunch of MigliorCane and MigliorGatto
Launch of a new range for sterilized cats and relaunch of the main Morando brands
---
speciality
Competitor insight
Brand strategy
Concept & content creation
Packaging design
POS activation
Video editing
deliverable
Spot TV
Video shooting
Casting
Motion graphics
Copywriting Script
MigliorCane and MigliorGatto: the two leading brands in the Morando portfolio, the historic petfood name in Italy, carried out an important renewal exercise. In particular, ATC faced two challenges. The first: launching and positioning MigliorGatto Sterilized, a unique range on the Italian scene, dedicated entirely to the rapidly growing segment of sterilized cats. The second: to take care of the re-launch of MigliorCane and MigliorGatto, reinterpreting its mainstream positioning in the light of the increasingly evolving needs and characteristics of consumers.
The relaunch reinterprets the mainstream positioning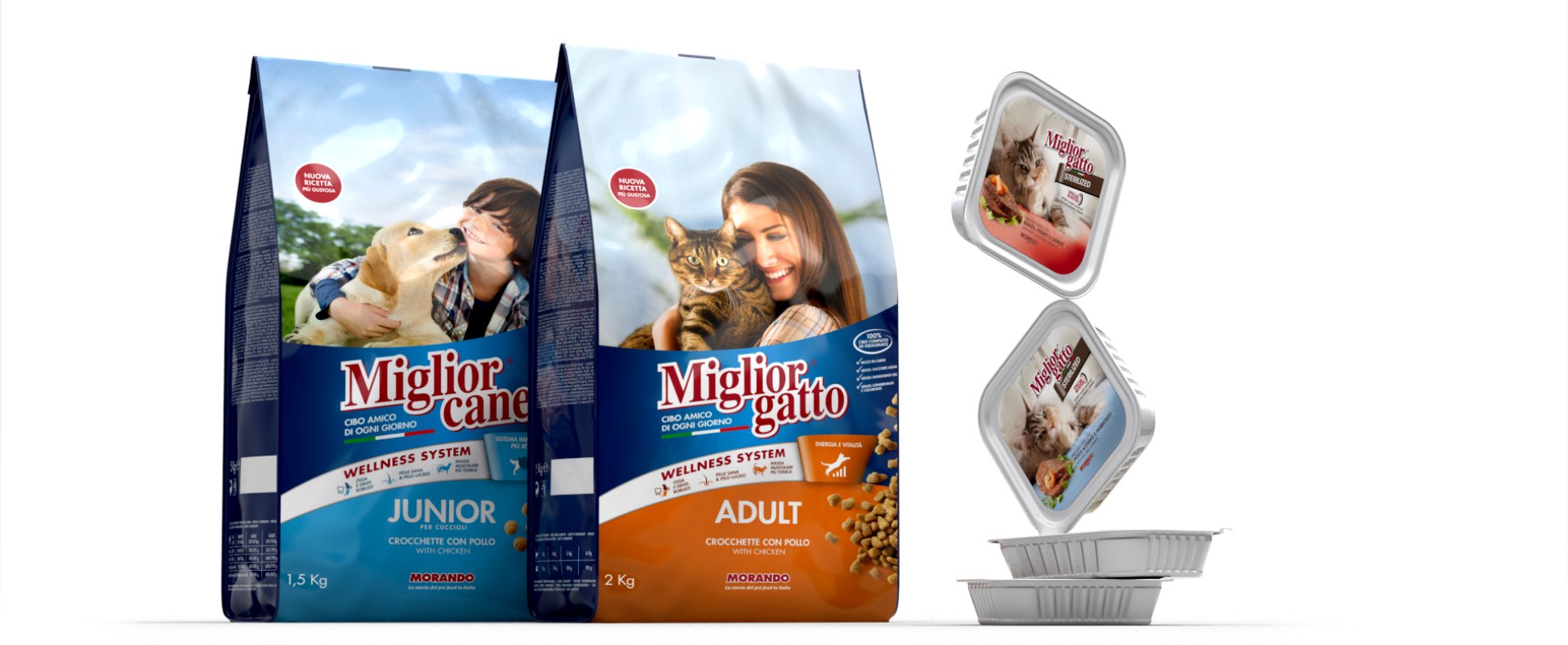 our approach
ATC used its long experience in the petfood sector, identifying the main levers to engage consumers, starting from the specific characteristics of the products. For the MigliorGatto Sterilized range, attention was paid to the importance of taste, with a more premium positioning compared to the traditional range, together with evidence of the specific health benefits of the range for sterilized cats. For the relaunch of the two main brands, an innovative focus on the petfood packaging landscape in supermarkets, which focused on the person-animal relationship, combined with the introduction of an important nutritional reassurance and the differentiation of the range into specific products to reflect the varying ages of pets.
solution
The launch of MigliorGatto Sterilized was developed starting with a shelf presence in which the layout of the pack and the design of the trays helped to promote both the perception of premiumness and the uniqueness of the product, and the "shopability", through the recognition of the cross-range advantages and the different tastes available to consumers.

The communication campaign culminated in a TV commercial, broadcast on the main national networks.

The relaunch of MigliorCane and MigliorGatto involved creating a careful on-pack balance, aimed primarily at reinterpreting the graphic elements that for years have guaranteed the recognisability of the shelf range. Furthermore, great attention was paid to the hierarchy of communication on the front-of-pack and to its relationship with the back-of-pack, balancing the emotional impact at first sight with a rational confirmation upon closer contact.
great care has been devoted to the hierarchy of messages on the front-of-pack and to their relationship with the back-of-pack