What will become of the food world? All signs lead to believe that two already existing – and constantly strengthening – factors will be the driving forces along its path to innovation: digitalization and customization. With such starting points, we'll try to paint the scene for the industry's upcoming developments, from social media to the novelties of delivery services, but also some interesting cases revolving around experience, a crucial selling point for the field.
Going digital: exploring delivery, dark kitchen and social trends
In latest years, the food industry picked up the pace on its own process of digitalization, in maybe a paradoxical way: food is something so concrete, so physical, it engages our senses and represents human interaction; and yet at the same time it is one of the trendiest topics among the many populating the immaterial world of the internet.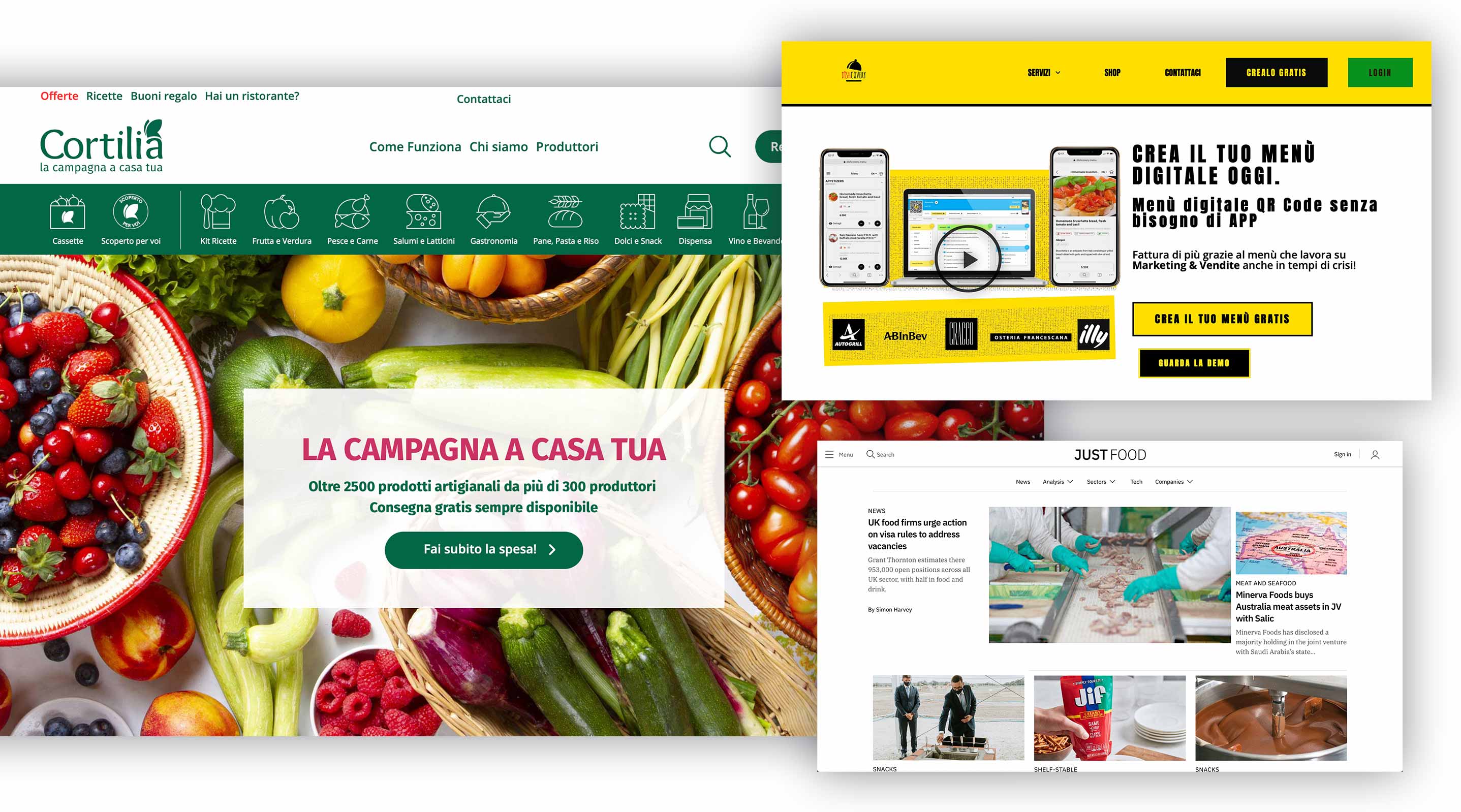 Covid-19 helped boosting the food industry's online sales: in 2020, food businesses experienced a 10,2% rise in online distribution, translating in a 200% yearly growth rate. The main reason pushing customers to online shopping is safety. According to a 2020 survey led by Cortilia on 4,200 customers, 54% stated that they "seldom or never" shopped online before the lockdown. After, this data dropped at 13%, with 25% of the interviewed customers "always" opting for online shopping and 61% "often" doing so. The popularity of delivery services over restaurants also increased: 66% of users goes out for lunch "less often", while this percentage increases by 2% for dinner. This shift negatively affected restaurant owners who responded to this emergency by revolutionizing their businesses through QR codes, digital menus and the aid of platforms such as Just Food, that allows them to manage orders and reservations for tables, or apps like Dishcovery to make multi-lingual and interactive menus.
The events of 2020 also favored the spread of a new type of food services revolving completely around delivery, with selected products to satisfy the public's desire for quality while also benefiting sales. It's not just restaurants dedicating part of their work to orders by delivery, but a new kind of location-less restaurants existing only in a virtual space. It's dark, ghost and cloud kitchen we're talking about, a new trend "revolving around one concept: delivery-only dining, with no food consumption at the restaurant, since there's no restaurant at all. At most, customers can find a corner dedicated to take-away" says Cris Nulli, digital-marketing expert and teacher who in 2017 founded Appetite for disruption, an Italian think thank for catering trade. For example, Pescaria uses Glovo's dark kitchen to test Pescaria Solo Fritti, a virtual brand dedicated to fried fish dishes to be delivered and consumed at home.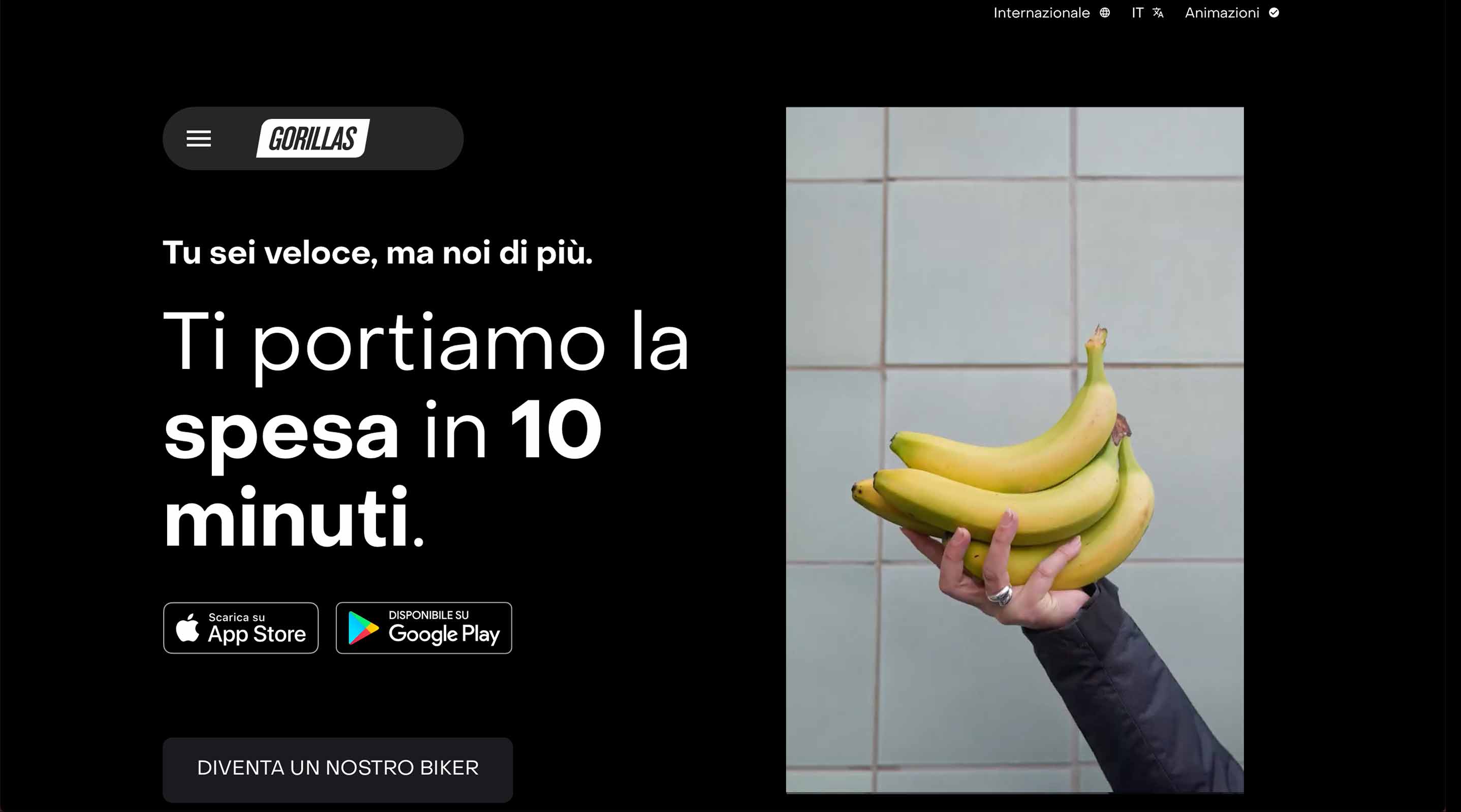 The same popularity boost has been experienced by quick markets, a new frontier of home delivery. As their name suggests, such services are based on speed: no more than 15 minutes pass between confirming the order on the app and having it delivered at one's door. Startups like Gorillas, Block and Flink are all the rage – and now they're also available in Milan – thanks to their warehouses, the dark stores, mini distribution centers operating 24/7 on online orders, closed to general public for quicker pick-ups and placed in highly-populated areas to fasten the products shipments. Glovo is planning to open 15 dark stores in Milan, Rome and Turin by the end of 2021.
Lastly, let's not forget the impact of social media on this industry. Food is one of the most talked about topics on online platforms, with more and more contents shared each day: recipes for healthy dishes on TikTok, tips for vegan and gluten-free diets on Instagram and groups dedicated to sharing traditional recipes on Facebook, leading up to specialized social networks such as Fuudly, a whole platform dedicated to food lovers.
Food experience: new paths toward complete customization
The digitalization of the food industry is hence becoming the main tool to elevate service. Technology allows to create more customizable experiences, a much sought-after detail by customers who look forward to get pampered by restaurants and businesses.
The food industry also has to take account of elements such as preferences, choices and habits, all quickly variable and deeply personal at the same time. Businesses are putting their best effort in shaping tailored strategies and innovative technologies to offer a high-impact customer experience. To succeed in this field, adjusting approach and communication to each unique customer is key. After all, that's not a much different behavior from that of our trusted local bakery or our go-to restaurant.
A crucial link exists between digital and personal: big data. Industries have now learned to analyze such data, by means of which they are able to identify their target audience, shaping their strategy accordingly.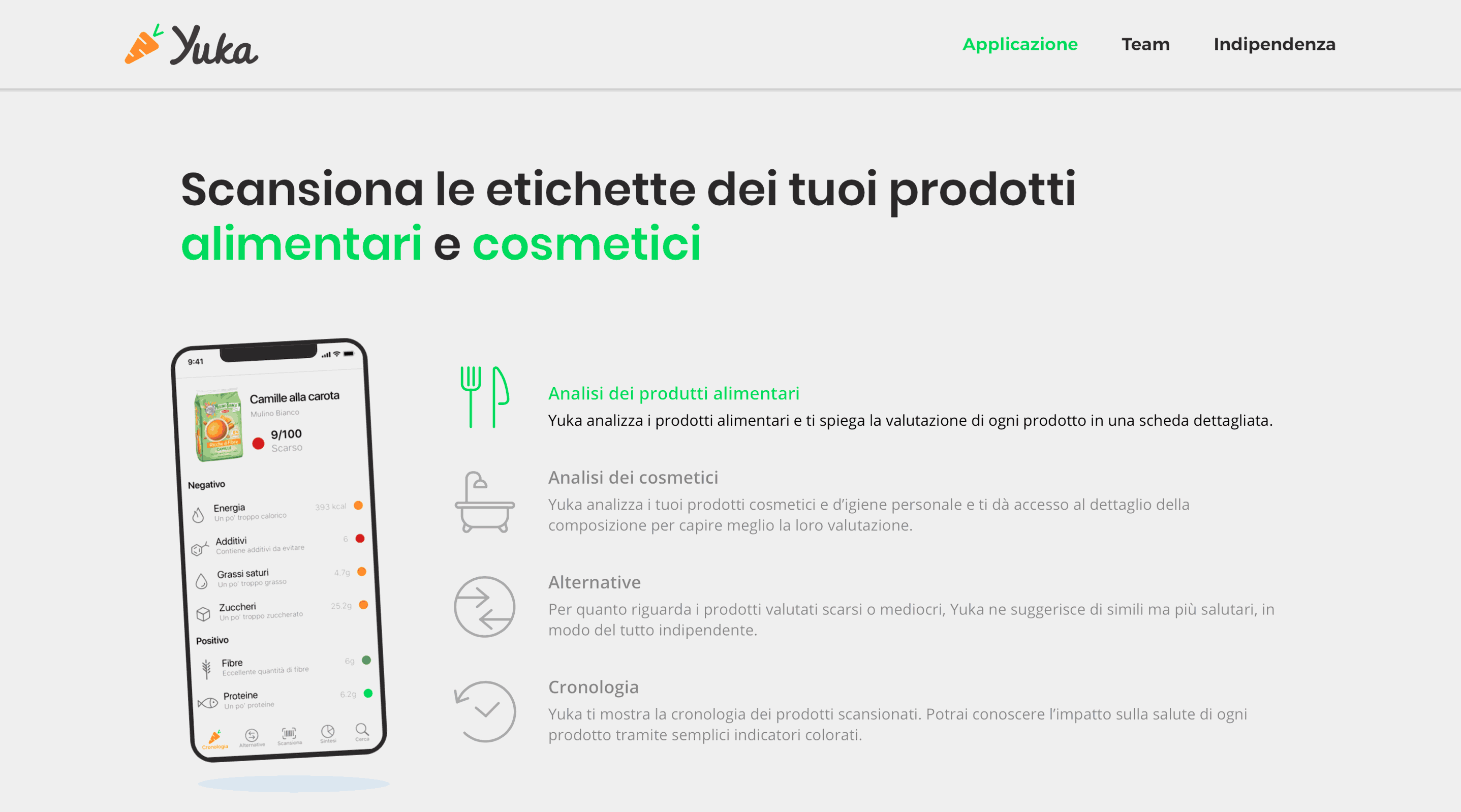 The average customer has now become fully aware of their own choices. Think of Yuka, a French app created by a father to have a clear idea of what he was feeding his children that is expected to revolutionize the way people shop for food. It's just that simple: when the user needs to evaluate a product, they just have to scan the bar-code to receive a thorough analysis. The product is flagged as inadequate, mediocre or excellent according to its nutritional characteristics, added additives and whether it's biological or not. You can find out if it's rich in saturated fat, sugar or salt, its content of proteins and fiber and its exact energy impact. This way, shopping for food becomes a fully customized experience, with enough knowledge to base our choices on.
The same choices that could push us to subscribe to a cooking-box delivery service. Have you ever heard of Blue Apron? It is an American ingredient-and-recipe meal kit company offering weekly boxes containing all the ingredients to prepare delicious dishes at home. The selected products are obviously fresh, high quality and sustainable. The company offers three different weekly plans based on the customer's needs – with 2 to 4 servings, plus a vegan option – and gives them the chance to list all their preferences through a form on their site. Formula 12 offers weight-loss boxes instead, with three options of all-inclusive dietary boxes with meals for 12 days. The service runs 24 hours a day, with the possibility of a payment plan and a 24 hours delivery on a chosen day.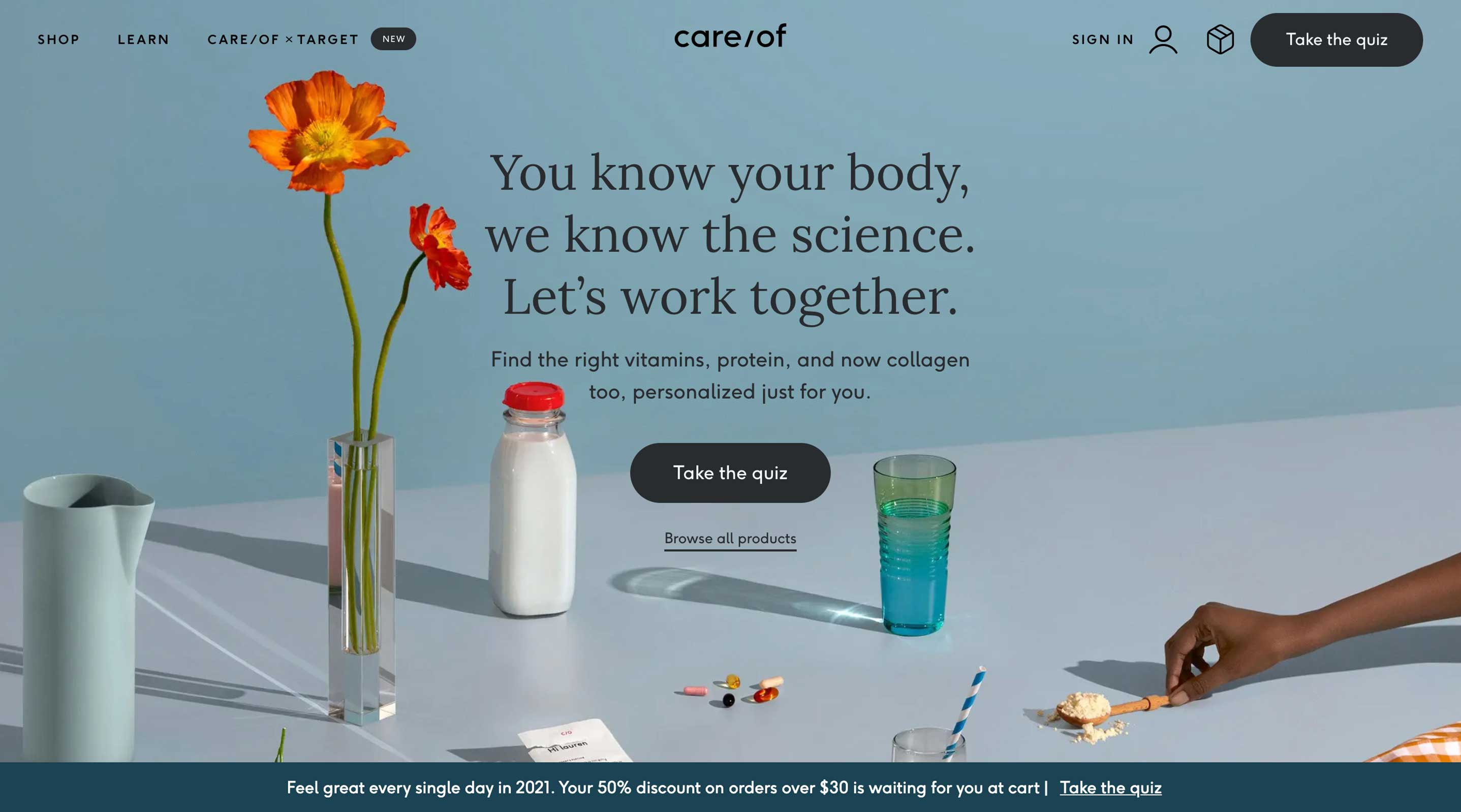 There's also Vinhood, regarded as an improved way to experience one's preferences thanks to a simple test to provide the customer with personalized advices, products, experiences and trivia to match their interests. Or maybe takecareof.com that, also through a quick test, offers a customized diet plan that changes through time, monitoring the customer's progress through an app and adjusting to better support their needs along the way.
It is possible to push beyond segmentation by simply taking a different approach, a creative and innovative one, to present customers with a unique added value. That's the way for McDonald's, that recently acquired the Israeli startup Dynamic Yeals to offer an even more customized experience through an AI based algorithm. For example, the Drive Thru digital displays will recommend food based on the time of the day, the weather and the restaurant's crowding, alongside suggesting additional products based on the customer's order. Keep an eye on Vinome, a Californian startup aiming to a fully customized experience through the analysis of taste, preferences and even DNA, recommending the perfect wine to be delivered at home.
It seems that the food world is heading towards a more and more digitalized and personalized future, to provide consumers with services reaching new heights of innovation and customization. Industry professional won't just be asked to adapt the system to changing needs, but also to foresee their clients' desires and expectations and provide a unique, distinctive and unmistakable customer experience.