During the first week of October, Milan hosted its very first Pet Week: domestic animals were the primary focus of this event, during which Purina partnered with ENPA to restate its commitment to an increasingly conscious approach to pet adoption. ATC-All Things Communicate worked alongside the brand, designing advertising material for various touchpoints.
First off, the first edition of Pets in the City: in this event, held during the weekend in Fieramilanocity, Purina has played a leading role, with the biggest booth in the pavilion. Here, we managed the stand interior communication and created the engagement activities to entertain visitors for each specific brand.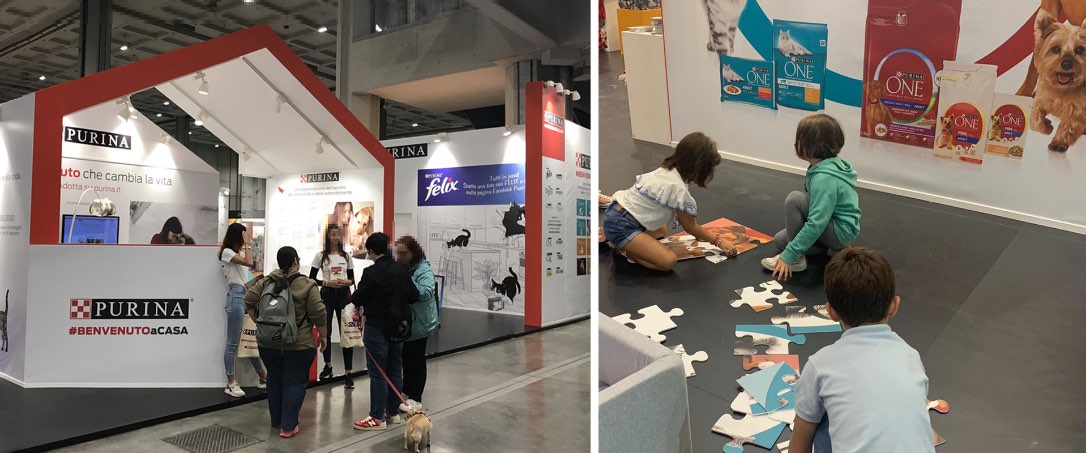 In addition, cat and dog-themed decorative materials were developed by ATC for Purina's Pet Street in via Dante, as well as informative bookmarks designed for bars' and restaurants' menus. Moreover, we collaborated with the duo of photographers @maxandfede to supervise a photo shooting: the pictures taken were then used by the brand to realize two huge billboards in Piazza Cordusio.
Lastly, in order to broaden the event resonance even outside of Milan, the agency managed the consumer activation activity organized by Purina for grocery and specialist stores, based on a double-engagement contest, both online and offline: specifically, the communication materials designed for stores, as well as the dedicated mini-website, were curated by ATC.