The city of Milan became the stage for exclusive exhibitions, talks, workshops, lectures and studio visits, paying a tribute to the form of communication that pervades every aspect of our lives. Many events were programmed between two main hubs: BASE Milano, centre of cultural innovation and contamination near via Tortona, and Certosa Graphic Village, a new space dedicated to creativity that, during the Festival, occupied the Certosa District.
The event also involved other city institutions dedicated to the languages of visual communication, arts and design, such as Mudec (Museum of Cultures), Muba (Children's Museum), the Sforza Castle, Fondazione Sozzani, and La Casa degli Artisti. The city of Milan became a big catalyst for ideas and interactions, through the presence of the most important names in the visual design world.
A particular performance in Certosa Graphic Village really represented the perfect mixture between graphic signs, illustration and visual culture.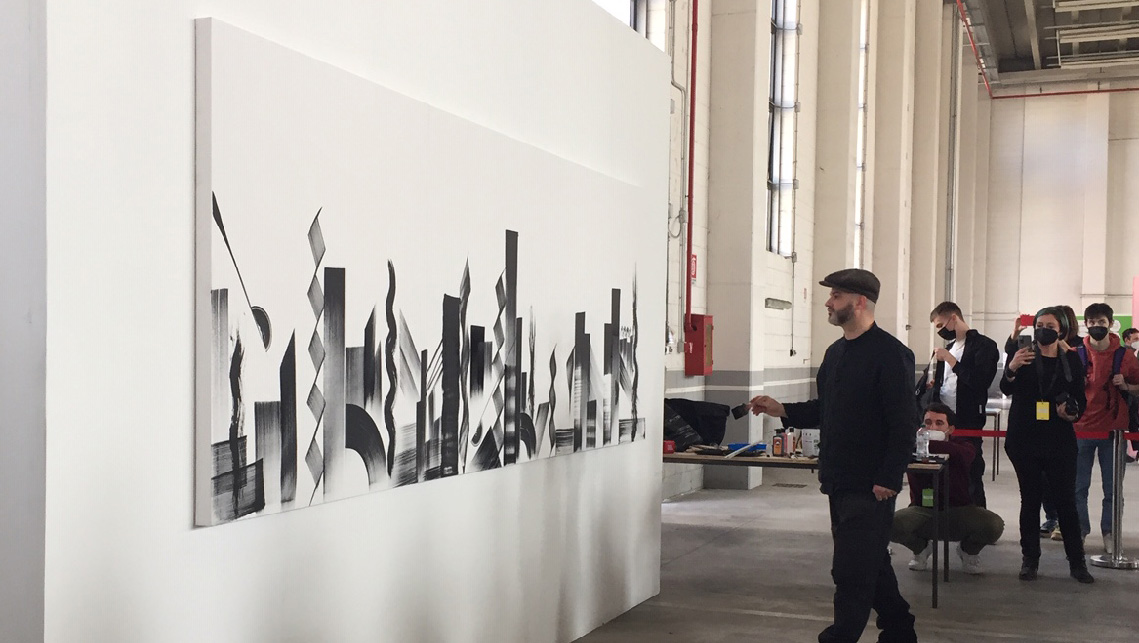 We saw the artist Luca Barcellona, internationally renowned calligrapher, at work. His aim was to combine the ancient manual art of writing with the modern languages and tools of the digital era. Born in Milan, Luca Barcellona funded the community Rebel Ink in 2003 and during his career he collaborated with the National Museum of Zurich, he launched his own clothing line, and worked with well-known brands such as Nike, Mondadori, Dolce&Gabbana, Sony BMG, Volvo, Universal and Eni.
Luca performed a live painting using the ancient motion of writing, while the black brush strokes formed an articulated urban skyline. Under the intense or light touch of the brush, the audience started to visualize a personal idea of City; multiple points of view were offered to "mentally lean on" them and freely enjoy the artwork.
An experience worth living again for a successful event.
Graphic retrospectives, exhibitions, project rooms, attractions dedicated to professionals, students and people of all kinds: the debut of the first Milan Graphic Festival was a success capable of bringing together different realities, not only enhancing an art that touches every discipline, but also thanks to the role of design for an urban regeneration that makes people's lives better.
This is what our cities need, now more than ever.