According to the latest data from the International Robotics Federation, Italy is in 6th place globally for number of installations, with a bigger prospect customer coverage for company than any other similar country. Nevertheless, the recent mapping of the market led by HowToRobot.com, the global robotics center, has highlighted an even more remarkable potential market growth.
The expertise of about 700 Italian companies in the manufacturing division is one of the key factors, in addition to Italy's prominent role in the textile and cosmetic industries in the field of robotics implementation.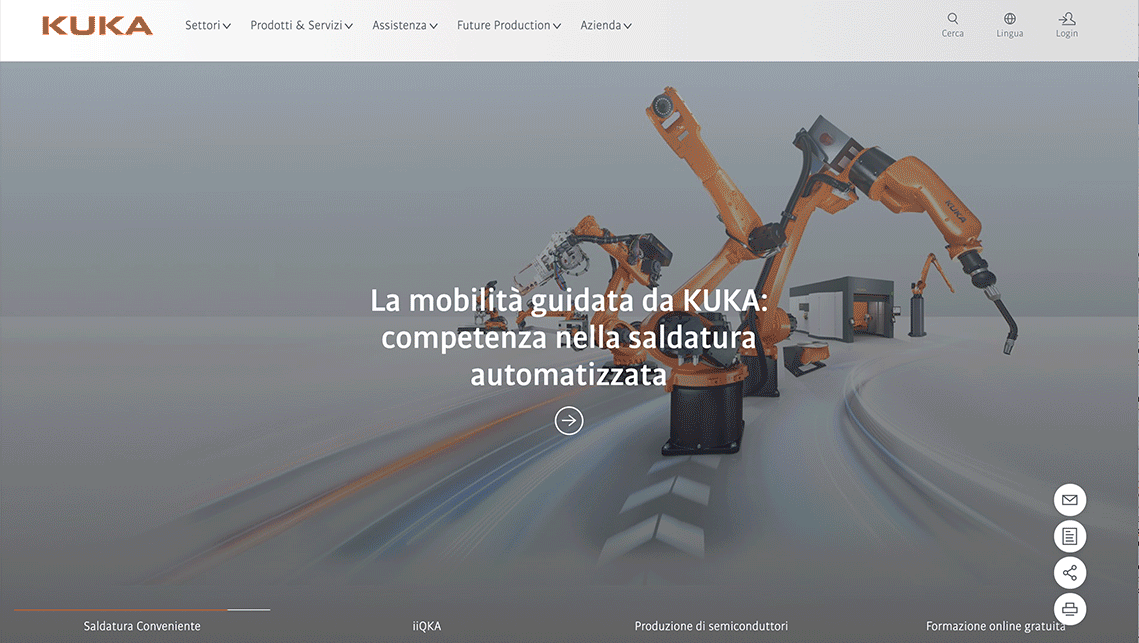 The big Italian hubs of foreign companies
Kuka Robotics, the Turin-based branch of the German company of the same name (now Chinese-owned), produces units for different industries including automotive, electronics, commodities, logistics, e-commerce, health and service robotics. Above all, safety parameters have been largely met. The so-called cobots – collaborative robots – adapt their speed of movement basing on the presence of people around; in other cases, "smart skins" can block all system functionalities when in contact with human skin. Kuka flexibleCUBE has a special arc welding that makes it a good example of safety in stroller production.
Yaskawa, a Japanese brand, has three headquarters in Northern Italy. Its core business can be helpful in mining, mechanical engineering, automotive, packaging, wood working, in the elevator industry, in the textile sector and in the semiconductor area. This company offers advanced solutions, especially in the field of renewable energy.
Comau, another global leader in automation based in Turin, in addition to excellent projects such as PURE for air purification in workplaces, shows a great commitment in job training. An example of this is "Manifacturing Academy", a recently started project that addresses high school and college graduates, but also unemployed people and has the aim to close the gap between the companies looking for 4.0 skills and the professionals entering the job market.
Italy is home to skilled companies and talents
The Italian Institute of Technology in Genova, that in 2018 created the Hannes prosthetic, a robotic hand that accurately replicates the movement of an actual grip, has recently brought to life Plantoide, the first robot in the world inspired to plant life and movements. To detect the presence of water or chemical agents in the soil, Plantoide stretches out its mechanical, sensor-equipped roots by unrolling or injecting material with a 3D printer.
Significant innovations have arisen in the medical area as well: in 2021 in Bologna a liver tumor was completely removed with the help of a robot. Masmec, from Bari, already operating in the automotive sector, under its division Biomed now produces devices able to help in surgeries and workstations for diagnostic and research labs.
The credit for developing the virtual ecosystem VRRS-Virtual Reality Rehabilitation System, the most comprehensive and clinically advanced service for rehabilitation and tele-rehabilitation in the world, goes to Khymeia. Another interesting activity is that of Era Endoscopy, from Sant'Anna High School in Pisa: its robot Endotics can perform a safe and painless colonoscopy, as if it was a caterpillar extending and receding inside the intestines of the patient without causing discomfort.
Italy is shining even in industrial robotics: Turin-based Makr Shakr has come up with a bartender that can make over 80 drinks per hour by juggling 158 different bottles at the same time. Demur from Savoca (Messina) has created a robotic island for citrus manipulation: this is not a simple palletizer but a "Soft Drop" system that handles fruit smartly, by carefully moving more than a thousand pallet boxes an hour in just 10 square meters.
Then there are specific talents like Marco Dolci, an engineer from Lodi, who moves Martian probe Perseverance's arms from the NASA base in Pasadena to collect samples from the ground for research purposes.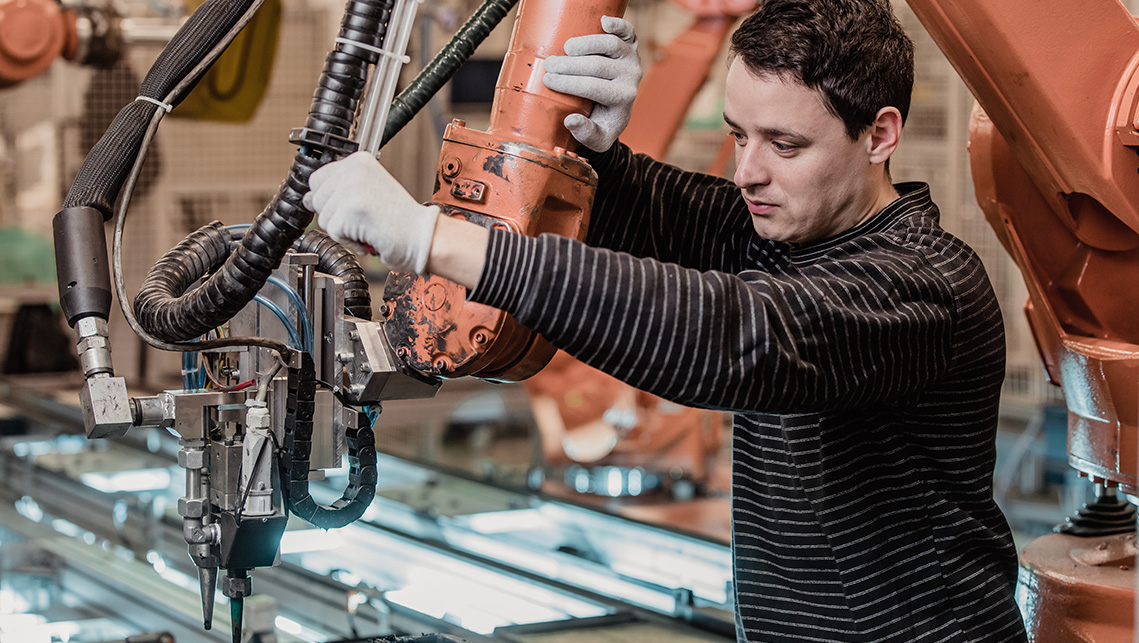 Everything is awesome but… are robots going to replace manpower?
In 2019, a study from Oxford Economics has sounded the alarm, anticipating 20 million less workers by 2030 because of automation. Actually, research today talks about a phenomenon called "reinstatement effect": the more robotics grows, the more complementary jobs grow as well. That's why in the area of industrial jobs, robotics personnel have increased by 50% in less than 10 years. This topic was discussed in the last World Economic Forum, that has estimated 75 million more unemployed people by 2025, balanced out by 133 million new, more specialized workers.
Therefore, the best solution is to trust progress and wait, putting new hope in a nation that is finally back on the rise.