An app started in 2016 by Chinese entrepreneur Zhang Yiming. A software that allows users to watch and create short homemade videos and edit them through filters and special effects. TikTok is a full-blown social network mostly made up of music and dancing, in which food-themed content is gaining more and more popularity.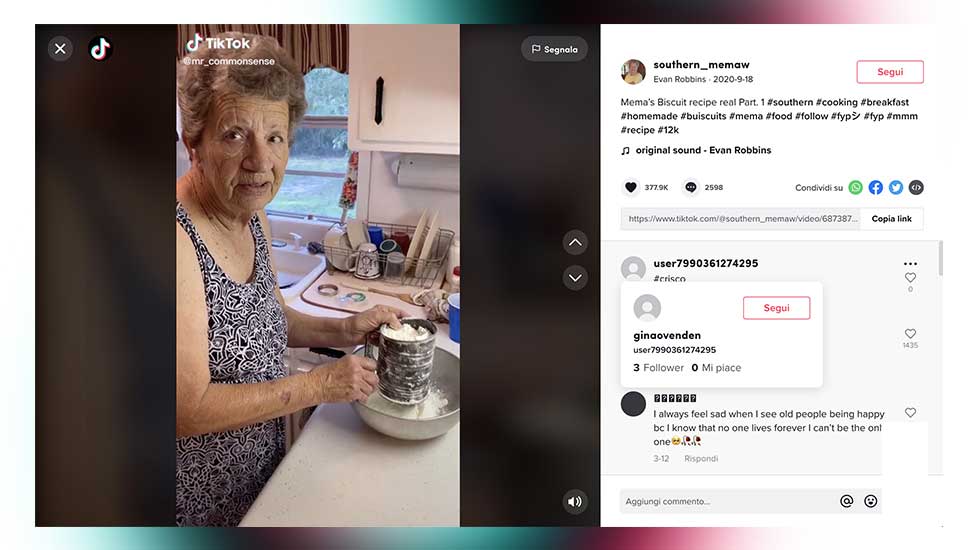 TikTok and food: short and genuine videos
Authenticity and brevity are what it takes to go viral on TikTok, especially in the food area. While Instagram trends have the tendency to focus on how to make the food look good, the videos on Yiming's social network show a unique quality of genuineness. While food porn visuals and curated feeds belong on Instagram, TikTok is for the everyday people, those who don't pay much attention to details and who are simply trying to enjoy themselves. The key factor about this app is that it encourages users to engange in food and cooking in a fun way, by being spontaneous and straight to the point.
Unlike on Youtube, where you can easily find 20-minute-long video tutorials explaining a dish in detail, on TikTok cooking goes back to quick recipes based on familiar ingredients and easy to recreate. Let's forget all about the stress and the sternness we have been watching on cooking shows, in TikTok videos you can see dirty kitchens, blurry shots and imperfectly flipped omelets: nothing too special, but very recognizable. Everything looks easy and this simplicity is what appeals to every kind of user, even those who aren't familiar with video editing, but are willing to try. If you want to make a cooking video and you only have a smartphone, a kitchen and little following, you can start from TikTok: on here, you can still have the chance to become a food star.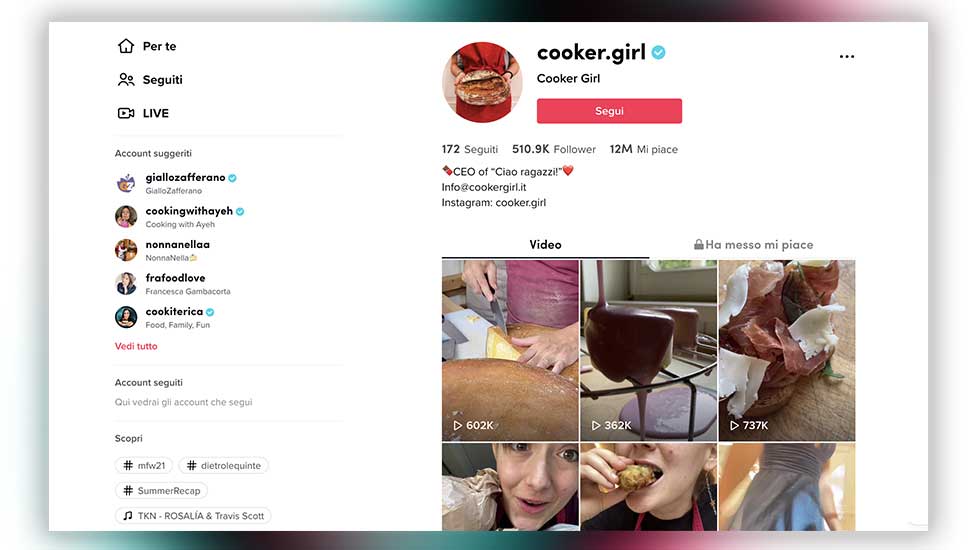 TikTok in the food world: not brands but ordinary people
On TikTok anyone can become a cooking celebrity. The new food influencers are not tv stars or big chefs, but home cooks, food enthusiasts and – often young - creators who, thanks to their videos, can have to chance to rise to the top positions on the algorithm. Their video recipes are tasty and fun, like those by Ashley and Taylor Johnston, who became famous by making smoothies with the nickname Twincoast: their first video, uploaded in November 2019, went viral overnight gaining over 500,000 views. 18-year-old Arianna Cavallo, aka Cooker Girl, achieved 500k followers with short videos showing her everyday experiences in the kitchen, such as spending a Sunday morning making gnocchi with her mom by following her grandma's recipe. A crazier story belongs to Tway Nguyen, who became popular by cracking two eggs at once while cooking fried rice: her video gained over 5 million views.
An essential element of TikTok is indeed authenticity. This sentiment could be the reason why big food brands haven't been able to achieve popularity on this social network. Might it be because this is a very recent phenomenon that is changing too quickly for corporations to plan action based on it? TikTok rules are changing every day and companies cannot keep up with them because their decision-making process is much slower, as Alessandro Bogliari, CEO and co-founder of Influencer Marketing Factory, said.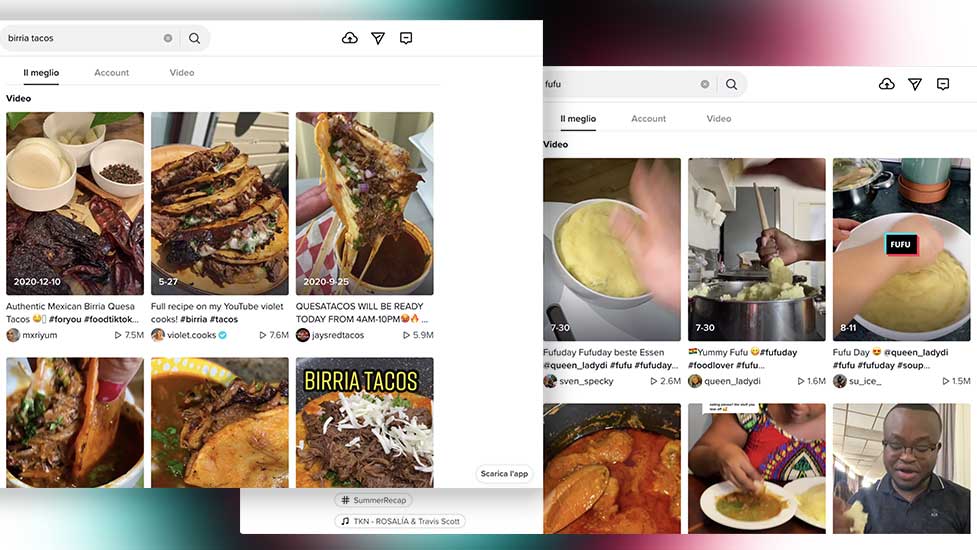 TikTok and the food industry: not only trends but a change of habits
TikTok is a trend setting machine in the food area, but it is also shaping the way people eat.
The trends on this app actually lead to a higher demand of products and to an increased popularity of some dishes. For example, after featuring in many TikTok videos, birria tacos, a Mexican specialty, started to appear on American menus. Fufu, the staple food in Western African countries, became popular thanks to a TikTok video by Princess Joan, an American influencer of Ghanaian descent, in which she was eating fufu while explaining why eating it with your hands is fundamental in order not to alter its flavor. Other trends include filling tortillas in quarters, food art and mini food. A viral cooking clip can also lead to a shortage of the main ingredient of the recipe in supermarkets: this happened with block feta cheese for baked feta pasta in Harris Teeter stores, a grocery chain based in North Carolina, that reported a 200% upsurge in block feta sales.
Besides specific success stories, the food industry cannot afford to underestimate the impact TikTok has, and the data from the Holiday Shopping Research seem to confirm this. The research explained that TikTok content is at least 8 times more memorable and emotionally engaging than traditional advertisement. According to this analysis, 52% of TikTok users claim to have been inspired by what they saw on the app, while 67% of them have discovered new products. On top of that, contrary to what happens on other social media, TikTok has a 45% chance to drive impulse sales.
Consequently, TikTok is gaining more and more leverage in the food business. This app attracts people of any age and the younger generations are taking an interest – if not a passion – in food and cooking: these young independent creators are the stars of the most viral videos on the For You page. Is TikTok going to shape our buying decisions even more? Food experimentations on this app have only started and it will be interesting to keep up with the next changes in this area.