ATC – All Things Communicate has been Danfoss's choice to design their stand for Refrigera 2019, the first event dedicated exclusively to the refrigeration chain.
At the centre of the Danfoss universe, ATC has positioned the installer, to promote the relationship of trust, synergy and growth that is developed between the brand and its customers, in both personal and business terms. The broad vision of the future that characterizes the brand, as encapsulated in the strapline "Engineering Tomorrow" acts as the fulcrum for the development of the stand and is expressed not only through its innovative products, but also by means of the presentation of training paths and dedicated services, which allow the installer to share a consistent vision of the future with Danfoss.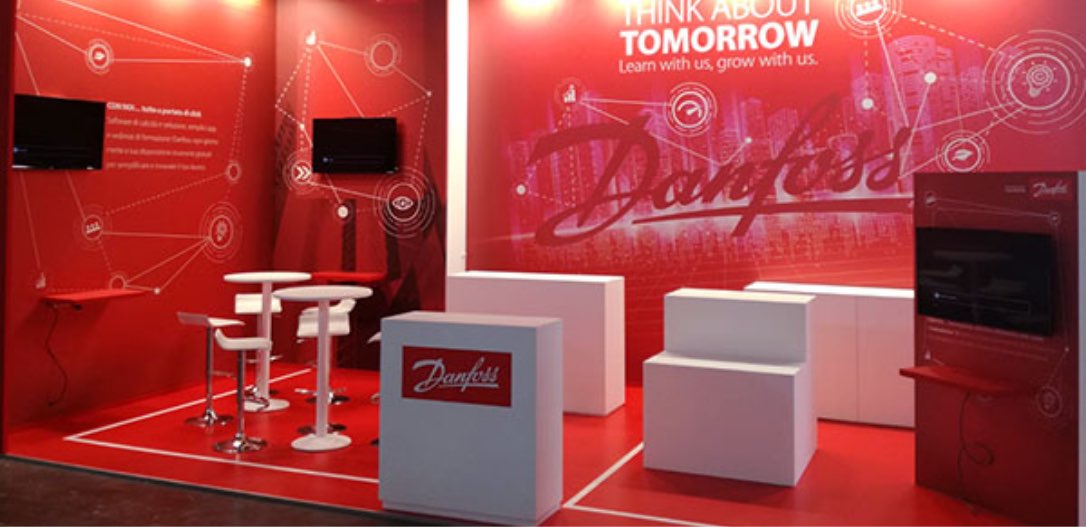 The key concept is summed up in the slogan: "Think about tomorrow. Learn with us. Grow with us." It emphasises the message of the drive towards growth and innovation that is synonymous with Danfoss. To reinforce the technological element of the skyscrapers in the brand's key visual, icons interact with the logo and refer to mobile connectivity and accessibility. The centrality of the installer and the relationship between customer and brand is conveyed primarily by the messages on the stand's vertical surfaces, which reinforce the "with us" part of the concept subhead and underline the advantages of partnership with Danfoss; the theme is also highlighted by the training paths, apps and services that Danfoss has developed for its customers, which are featured in informative presentations running on two monitors; in pride of place, a totem equipped with a third screen is dedicated to the figures that represent the closeness between Danfoss and its customers: the selectors, who support the installers in their work every day. To increase brand awareness and underscore the company's leadership in the sector, dedicated supports for products have been employed, highlighting technological innovation. Also, Danfoss's distinctive red livery strikes a bold note inside the visual landscape of Refrigera 2019, helping to make the stand more recognisable and visually appealing.