By many people Milton Glaser's logo I ❤ New York is seen as something of an icon. Designed in the '70s in a New York strained by a galloping economic crisis , fretting for its high crime rates and rundown neighbourhoods,the symbol has contributed to create a whole new way to look at the city.
In Glasers' representation, the Big Apple wasn't anymore the gloomy and dystopian metropolis weary of crime episodes, violence, and social clashes, but instead a unified "super-place" where culture, art and diversity could thrive. I ❤ NewYork is a phenomenal manifesto of the cultural richness and of the role of "hub" of the city in the global context.
Place branding is an old phenomenon- it can be traced back to the very which is getting much attention today.
The reason of that can be put down to a number of factors-political, economic and cultural- which have taken place over the last decades: digital media, enhanced people's mobility and a more affordable tourism linked to low cost travels have spawned a new consumers' interest for unusual destinations.
Hence a lot of places that were once labelled like "off-the-beaten path" are developing a brand identity on their own.
Projecting a brand in the future: what I want my place to become?
There are many approaches to place branding. A common one is focusing on the equity of the place, on its physical and cultural assets.
Being too literal-descriptive, tough can make the design fall flat.
Powerful brands are those who can project an image of what a place wants to be, not limiting to portray just what it is best known for.
In a recent re-branding, Wales unveiled details of its culture, history and geography, which may have been otherwise ignored.
A whole new narrative was hence developed to tell a rather different story compared to the one the general public was used to.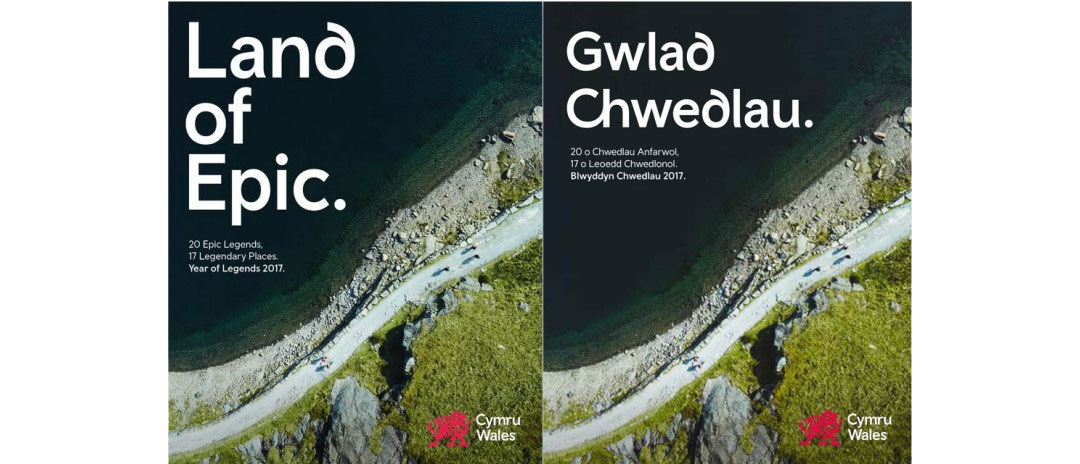 This idea of envisioning what a place wants to be gets even more powerful when the concepts of transformation and change become structural elements of the design, as it's the case with New York Meatpacking District's identity, where the contrast between the serif and an industrial type symbolise the dichotomy between past and future, between people's current perception of the place and the kind of positioning it aspires to hold in our mind.
"There is a truism that place branding has a strong role as a driver of gentrification of dilapidated and poor spots.""
Empathic places
Like all other design activities, great place branding is tightly connected with the understanding of users' needs. According to Emma Cariaga of developers British Land, "New places need to be born out of really intense programme of listening to local people and to the market".
An example of that can be the Rockaway Beach brand identity project by Paula Scher, developed after the havoc caused by Hurricane Sandi's and the destruction of the beach's iconic boardwalk.
The designer here created a series of posters which portrayed the beach from different perspectives and entry points, providing visitors with a visual guide to orienteer themselves and to access the beach, when all old reference points had gone missing.
The broader purpose of project would be to recreate that sense of place and the recognisability of every spot: actually, the posters became so iconic that were turned into a series of postcards. They had become the new ownable design system for the seaside spot.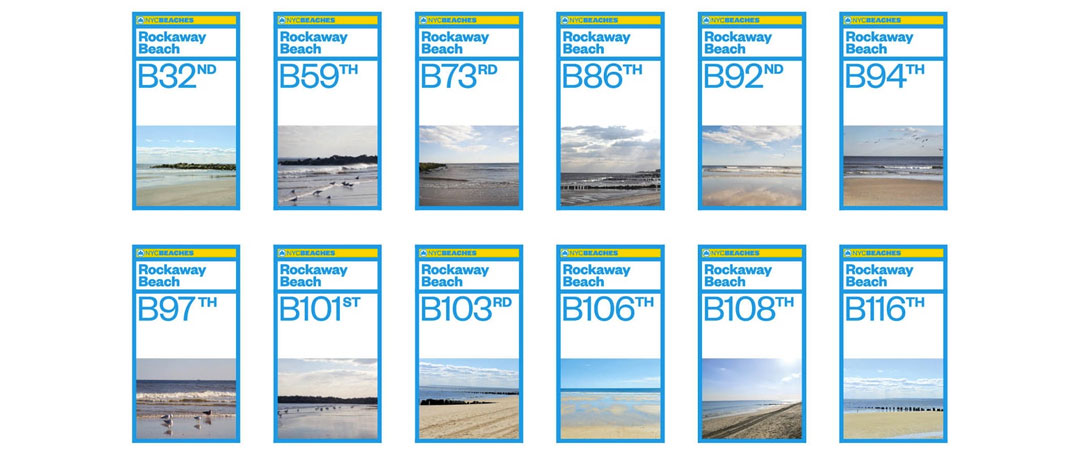 References:
Creative Review, The Place Issue, Oct/Nov 2018
Paula Scher