Lately, a new trend is gaining a foothold in Italy: workation, a Portmanteau word combining the terms work and vacation. Similar to bleisure (business + leisure) and contrary of staycation, a workation requires that employees accomplish their working duties from a tourist destination, without having to go to their workplace. Besides dismantling the usual views about work/life and stress/recovery balance, this trend triggers immediate social and economic effects and an evident impact on the hospitality area.
A rapidly growing trend
This trend has certainly been boosted by the pandemic and the resulting diffusion of remote work, which caused many people to work from home and often deprived them of the motivation and the concentration they were used to find when sitting in their office.
A research by the National Statistical Institute (Istat) shows how, between March and April 2020, the rate of remote workers in Italy has increased to 8.8%, opposed to 1.2% before the pandemic.
A workation, then, looks like an appealing solution for those who find themselves dealing with this type of activity. According to a survey conducted by Airbnb last fall on 2,000 Italian workers, 66% of the participants expressed their intention of leaving their home in the following months to carry on with their remote work. Moreover, although 34% of them would choose closer destinations, the most requested accommodations are beach houses (39%), mountain cabins (20%) and lake houses (13%).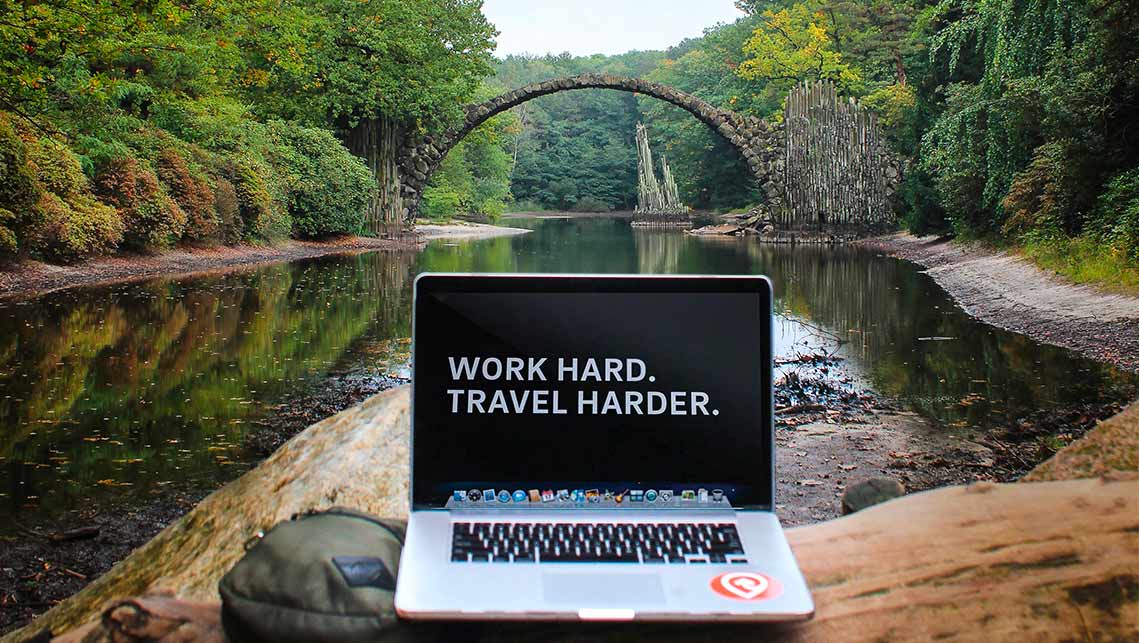 Benefits of workations on workers
While organizations, companies and employees continue to debate the pros and cons of working remotely, at the present time many workers, instead of staying locked in their houses, decide to take a breath of fresh air and get in touch with nature. In this way, they can make up for the loss of contact with their colleagues and at the same time they can respect social distancing rules.
For many, the domestic environment might not be an ideal place to work from and it might instead become an additional source of stress, whereas a change of scenery could help favor one's concentration, boost their mood and increase their productivity.
According to psychologist Annalisa Valsasina: "A walk in the woods or on the beach could lead to a better sensation of general wellbeing. Working at the seaside or in the mountains can surely benefit people, their emotional health and, consequently, their energy and responsiveness while working".
The transition to remote work has certainly caused a shift in people's habits and escaping to a different place could help them set up a new routine that also includes leisure activities they usually only engage in during their off time.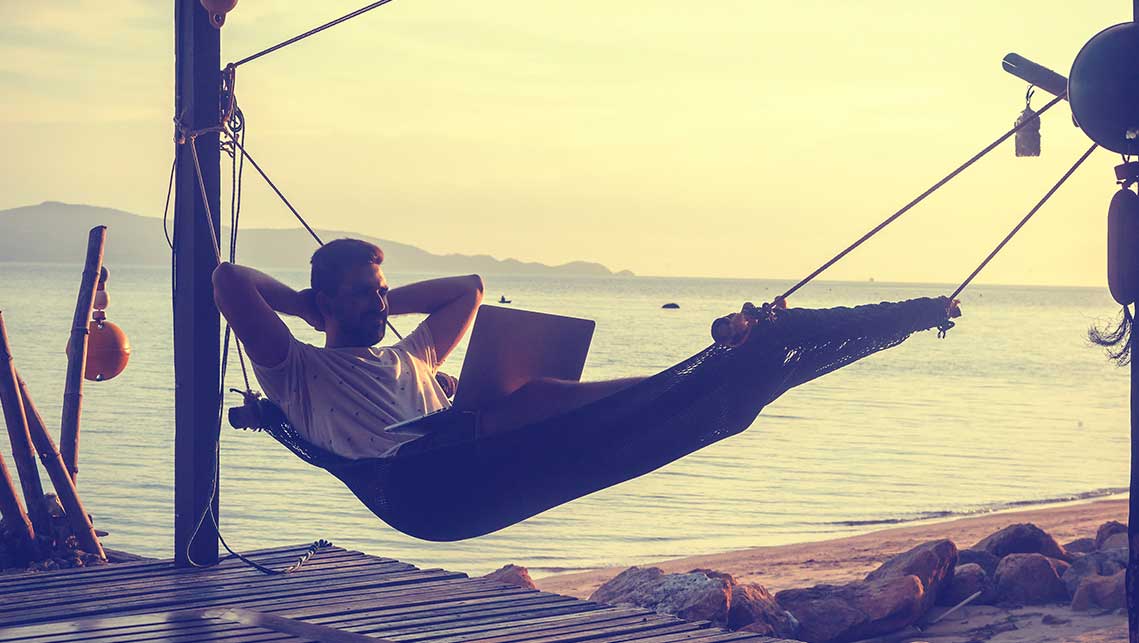 New accommodation offers
On the other hand, workations are also a way to promote tourism and bring new assets to travel destinations where the pandemic has caused a significant decline in visits.
Several hotel facilities have grasped the opportunities workers and their desire to escape could offer them and have since started to provide new customized solutions.
According to the aforementioned Airbnb survey, 1 in every 2 searches for over-7-day long stays is influenced by the presence of a wi-fi connection, a key element for remote workers.
For this reason, Internet providers acquire an increasingly essential role and they are consequently updating their services, trying to grant a higher net coverage throughout the whole country. Telco company Eolo, for example, has implemented its network infrastructure in order to bring broadband access all the way down to the smallest towns and rural areas across Italy and make high-speed Internet available also for hotels and guest houses.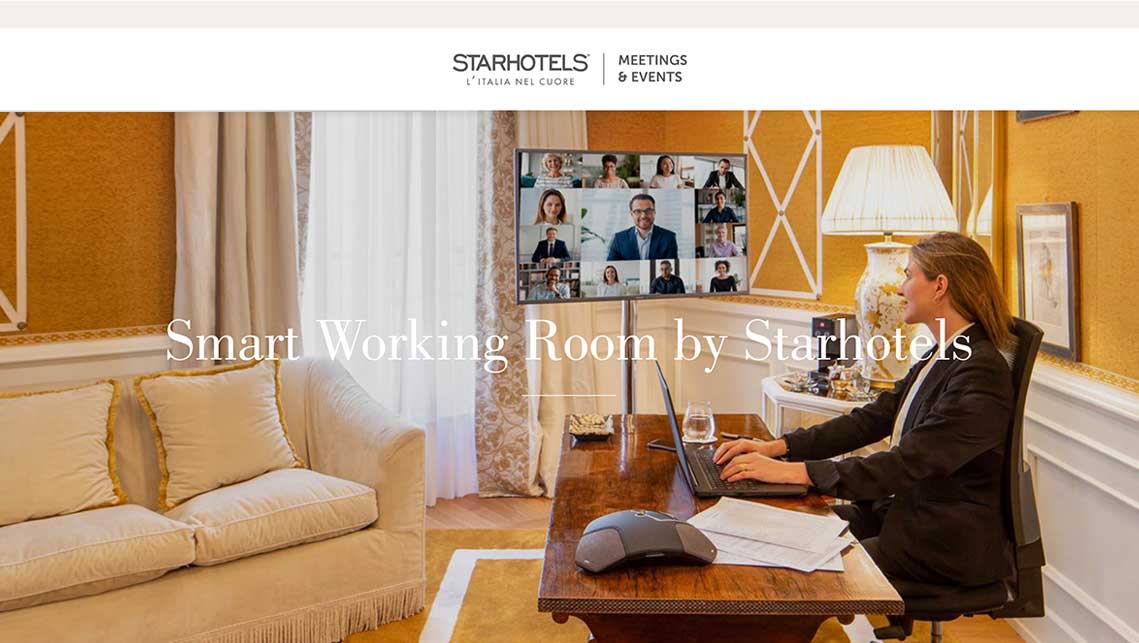 At the same time, big tour operator groups have started to equip their hotels with fast connections, delivery services and working areas, like Alpitour with "Smart Week" – a customized offer -, Starhotels with their "Smart Working Rooms" – luxury backup offices with every kind of comfort -, or Club del Sole with its "Smart Holiday Villages" – where entertainment for kids and baby-sitting options are available while their parents can peacefully work on their laptops.
Following the growing popularity of workationing, new digital services have started to appear. Websites like Nuvala, Be.Long and Smace help their users find hosting solutions, giving them the ever-connected holidays they are looking for.
Regardless of the extensiveness of remote working activities in the future, the response from the hospitality industry and from digital and telco companies have shown on one hand, the importance of reacting to current problems through quick-thinking processes; and on the other, the necessity to count on a solid integration across different commercial initiatives (like those from tour operators) and on a good infrastructure. These challenges are relevant to both the businesses hit by the pandemic and the whole country.